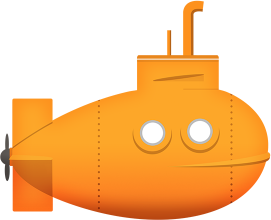 Wondering why we developed Findings, what you can do with it, and who we are? You have come to the right place!
Findings in a nutshell
Findings is an "electronic lab notebook", mostly targeted at researchers and scientists.It is meant to address a fundamental part of the scientific workflow, that was traditionally the job of paper notebooks. No sound science exists without a proper lab journal, and we think Findings can give a big boost to this process and change how researchers work.
What is a lab notebook?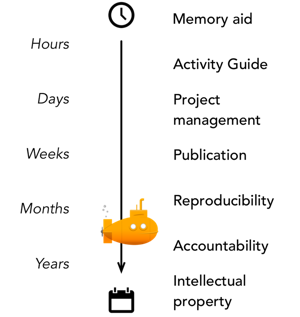 From the Findings blog
Why do you need a lab notebook?

When biologists, physicists or chemists investigate how nature works, it is critical they keep a detailed journal of what they do, the conditions used and what results these conditions led to. For instance, in biology: how long cells were incubated, the temperature, drug concentration, etc.
The role of a lab notebook goes beyond the short-term benefits of a journal, though. Good lab notebook practices are fundamental to many other aspects of science: collaboration, reproducibility, accountability, publishing, intellectual property, etc.
The lab notebook is really a fundamental part of the scientific process. Without it, science would have no memory, and no legs to stand on.
Paper vs. Computer
Most researchers in academia still use paper lab notebooks. This might seem surprising, given how computing has become so essential in science. Why is paper still widely used? Its big advantage is the immediate availability and flexibility. Paper is a medium of choice for instant action. There is almost no friction: one just need to grab a pen, then write and doodle freely.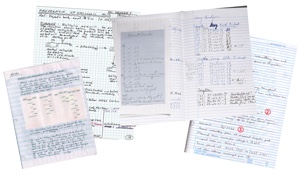 Paper lab notebooksUnfortunately, paper is a very poor medium for all the other goals of a lab notebook, where digital is a clear winner: storing results, analysing data, searching, replicating, sharing, preserving, and more. Why haven't computers and mobile devices replaced the paper notebook? As in many other areas of life, convenience wins, and long-term consequences are easily ignored. The simplicity of paper and pen can be very compelling when weighed against the hurdles of poorly designed software.
Given the choice, researchers in academia go for the paper notebook. To win over, lab journal apps have to offer compelling short-term conveniences, and not just rely on their inherent long-term benefits.
Findings goals
Findings ambition is simple: make your Mac, iPhone or iPad a better tool than paper to run experiments and keep lab records.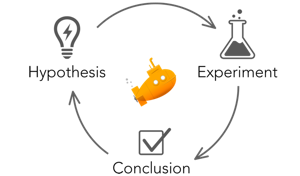 From the Findings blog
What is an experiment?

We want Findings immediate benefits to compel our users to happily give up their paper lab notebook. We want them to open the app when in the past, they would have grabbed a pen. And in the process, we want out users to reap the long-term benefits that a digital workflow offers: readability, full-text search, instant sharing, easy collaboration, integration with result files, clear attribution and accountability, etc.
We want our users to spend less time on the minutiae of note taking, so they can focus on the actual science and achieve more, while being more satisfied.
Not a scientist?
Findings is primarily aimed at researchers and scientists, but the scientific workflow is something that can successfully be applied to many situations, with great benefits. By its very nature, Findings encourages experimentation and can help improve any kind of process or workflow that depends on multiple parameters or needs to be adapted to various situations. Which is pretty much everything in life, right?
If you are curious about Findings and want to "play" with it, here are some ideas:
Cooking. The perfect cupcake recipe. Not enough candy
★★★★☆
Credit: craftie_cookie You have a nice cupcake recipe, but you never remember what modifications you make and which ones matter for the final result. Be a scientist! First, create a 'recipe' in the Protocols section of Findings. When you start a new batch of cupcakes, use the recipe to start an 'experiment'. The recipe text will be duplicated as part of that experiment. You can follow along the recipe, marking each step as done as you go. And if you change something that day, it's easy to edit just that part in the experiment, without affecting the original recipe. After tasting, you can rate your experiment, take a picture , and type a few notes on the results and what you could do next time. Speaking of which: next time, you can also use the 'duplicate' functionality to create a new 'experiment' with the same content as last time, ready to be edited further! To make sure you can easily get to all your cupcake variations, keep them all in a 'cupcake' project.
Software development. Optimize your code. Yes, yes, premature optimization is the root of all evil. But surely it's ok to do it in version 1.1 when users start loading the app with thousands of documents and complain about scrolling lag. As you identify the slowest code paths and start changing things, it can be very helpful to carefully keep track of improvements: how you measure performance, what code you changed, why you made that change, what the performance was before the change and after, etc. This is particularly useful if you are interrupted in this process for a few hours, or even a year later when you go again on a performance spree. Findings can help you keep a journal of that activity, connecting your notes, the performance profiles you run, and the commit hashes, all in one place. You can easily share the results as a nicely formatted PDF… and impress your colleagues.
Paperwork. Prepare your taxes. Taxes. Fun.
Credit: TaxRebate.org.uk Who said it's not fun to prepare your taxes? OK, maybe it will never really be fun, but at least, it could be less painful and more satisfying. Every year, it's the same process, the same forms, the same painful calculations, the same googling around. Yet it feels like starting from scratch, every year. And actually, one of the most annoying part is that it's not always quite the same. With Findings, each tax preparation is an 'experiment' and you'll get better at it every year. You can write down every task you perform, as you do it, drag forms and helpful files next to your notes, and write down any piece of advice for your future self. As you build knowledge and experience over the years, you don't have to repeat yourself. Even things you did only once, three years ago, become easy to do right, without all the usual head-scratching. Each new tax preparation is more efficient, more accurate and less painful than the previous one. Hey, come to think of it, every administrative task should be done like that! Passport renewal, DMV registration, school bus application? Start an experiment!
Everyone is a scientist!
The Findings team
Findings was created by scientists turned indie software developers. It is truly an app made by scientists, for scientists.
Charles
The Mac and iOS versions are developed by Charles Parnot, who turned to software development after many years as a scientist, a good chunk of them spent in the Bay Area. He came back to France in 2012 where he cofounded Findings.

Alex
Alexander Griekspoor is co-founder and investor on the project. Before Findings, he created several other applications for researchers, including 3 ADA-winning apps. In particular, you may know Alex as the original creator of the wonderful Papers application.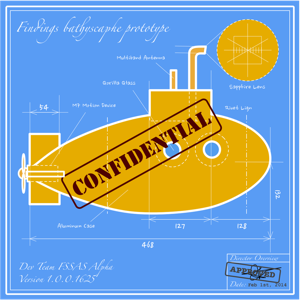 Making of Findings

Marcello Luppi of Wrinkly Pea Design, also an ex-scientist, is a talented designer that works on both platforms.
Findings is part of a small network of apps in the research and education market. Be sure to check out Manuscripts from Matias Piipari and Studies from Drew McCormack, as well as the apps from Nucleobytes.